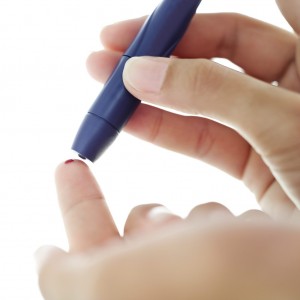 A study presented at the 2013 American Thoracic Society International Conference demonstrated that in people with prediabetes, treatment of associated sleep apnea improved blood sugar control.  Two weeks of treatment with continuous positive airway pressure (CPAP) resulted in a significant lowering of blood sugar.
We have known for several years that there is a link between diabetes and sleep apnea.  Sleep apnea is a stress-producing condition occurring while you are asleep.  It results in high levels of cortisol and activation of the sympathetic nervous system.  This can result in significant elevations in blood sugar.  At the same time, it is also wreaking havoc with your oxygen levels.  This causes the release of substances called inflammatory mediators, which inhibit the ability of insulin to get into the cells.  This is referred to as insulin resistance.  In response, the pancreas, where insulin is produced, attempts to put out more and more insulin.  However, there comes a time when it can no longer do this and then we go from prediabetes to diabetes.
We know that the incidence of sleep apnea in diabetics is high.  Previously it was felt that obesity, which is common to both conditions, was the link.  However, now it is becoming increasingly clear that sleep apnea may be the cause of diabetes in those who suffer from this breathing disorder.
So what are the implications?  First, weight loss is extremely important and can improve both diabetes and sleep apnea.  However, if you have been diagnosed with early diabetes and snore loudly or are constantly sleepy or fatigued, you may have sleep apnea.  In this case bringing it to the attention of your health care provider could result not only in an improvement in how you feel but also in your blood sugar control.