Dr. Rosenberg Answers Your Questions on Sleep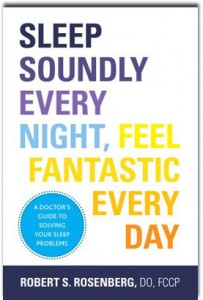 If you or someone you love has trouble sleeping, Dr. Robert S. Rosenberg will help you identify the problem and provide targeted solutions so you can start awakening refreshed and renewed immediately. Based on the most recent research and including real patient stories from his practice, Dr. Rosenberg will help you prevent and manage sleep disorders, find relief, and build the foundation for better health.
Order your book online now!
What People are saying about the book…
Best Book Ever for a Restful Nights Sleep – This book answered all my questions and corrected my misconceptions about sleep. Surprisingly I found myself sleeping better after just reading the book, without resorting to any sleeping aids. I guess it put my mind at rest. I definitely recommend this book to anyone having trouble falling asleep and staying asleep.
-Avid Reader, Amazon
I've done a lot of research on sleep for a book I recently wrote about how to improve your life in the 21st Century, especially about how to sleep more soundly and regularly. But I learned several new things by reading Dr. Robert S. Rosenberg's new book Sleep Soundly Every Night, Feel Fantastic Every Day.
– Eric Wentworth
Simply an amazing book!! – I bought this book due to my family history of sleep ailments. It was more then I could have hoped for. Dr. Rosenberg seems to cover it all in this reader friendly book. I bought this book thinking it was going to be another snore fest… but it was so refreshing and insightful.
– Philip Farnsworth
Dr. Glenn says "this book is a must if you have trouble sleeping!" – I'm a board certified Internist with 30 years of experience. I found Dr Rosenberg's book to be clear, concise, interesting a new helpful. I use it's suggestions for myself and my patients. Good job Bob!
– Dr. Glenn Nudelman
I have had the wonderful opportunity of training and working with Dr. Rosenberg as a nurse practitioner. I am delighted that he wrote this book addressing all of the most common sleep disorders that I encounter in my sleep practice. I am recommending this book to my colleagues in sleep medicine and sleep patients.
– Vicki Joyce
Five Stars – Excellent! Just what I needed when my sleep pattern became disturbed! Thanks Doc!
– Susan Fifield Mazul
Hope for the insomniac – Fantastic book. I have had insomnia for 30 years now I now realize that I don't need prescriptions to sleep and it is possible to have a great nights rest and energy the next day . Thank you Dr. Rosenberg
– Mary Richie
Great Advice for Leaving Prescription Sleep Aids Behind! – I have always had trouble sleeping from my 20's forward. I started taking antihistamines to sleep at the age of 25 and then moved into the prescription drug-dependency arena for sleep aids. At 60, I am really trying to embrace a healthier and more natural lifestyle.
– Jan Zimmerman